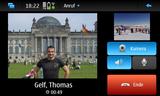 Yesterday I did a dist-upgrade on my Nokia N900, right now I'm running the new PR1.2 firmware. One of the first things I tried out where the new SIP video call capabilities. It really works, without requiring any configuration changes! I'm using our VoIP platform as before, with the little difference that I'm ready for video calls right now :p

Unfortunately I had not so much upstream bandwith and nothing but a Grandstream GXV3000 for my tests. However, it (mostly) worked. Nokia did a great job once again!
Sure, I also stumbled over some little issues - will have to dig a little bit deeper and to report them to Nokia afterwards. For example: if you are going to use STUN, Contact and SDP are set correctly, but Via is wrong. And: load is pretty high during a video call, it also consumes your battery really fast.

NB: The screenshot has been manipulated - as screenhots with CRTL-SHIFT-P are capturing all but the video overlays, I shamelessly used Gimp to place two pictures on the screenshot.